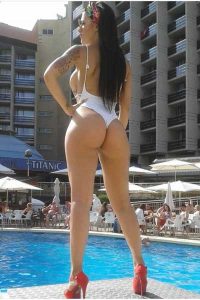 Our female strippers have got the perfect shows, one of which would be the "Pleasure and Pain". The show lasts for about 20 minutes and its a great send off. Of course it involves full nudity but it also involves a bit of whipped cream, candle wax and the stag gets a bit of a whipping and finishes with the girl giving herself a wet soapy rub down. Its also a fun show and some of it is a good laugh.
Pleasure and Pain
Depending on what you want she can also drip candle wax onto the stag and give him a smack on the arse with her belt. A bit of pleasure and pain or as one stag said he didn't know whether to laugh or cry, but she's fit so everyone is happy in the end. You can take this show as far as you want.
I've seen her set a lads chest hairs alight with the candles, it doesn't hurt but its funny. She's even stripped a guy down so that she's dripped candle wax onto his balls. It all depends on the stag, she'll take the show as far as it goes but she won't humiliate him unless he's up for it. Like I say she's really hot, the show is fun and she gets her kit off. To book this female stripper show please feel free to contact us for more details.
Stag Stitch Up Benidorm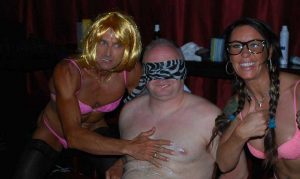 Want to stitch the stag up proper? There is one part of this show where she blindfolds and handcuffs the stag and puts lotion on his chest, we then have a male stripper come out in drag and rub in the cream while she whispers in the stags ear "do you like that, am I make you hard etc etc. when the blindfold comes off your stag now sees the male stripper, who lap dances the guy for a while but we don't want to look at a male stripper all night so the girl takes over and finishes with her show. The cost of adding the male stripper is 100 euro extra.
if you don't want to give your stag any pleasure and pain you can also just book the male stripper for a solo gig 150 euro.
Top Model Female Strippers Benidorm
Now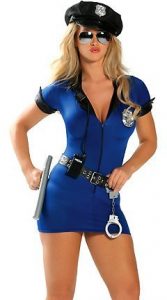 not every stag party is sadistic and we also have many more hot female strippers with equally fantastic shows in the more traditional sense and of course involving a full striptease. These girls will make equally good use of whipped cream on their own bodies with some lucky guy getting to lick it off or rubbing ice cubes over them. We have fantastic Benidorm venues suitable for a stag party stripper and always free shots on arrival plus someone to greet you, not letting on of course that you have a stripper booked. The stag won't know a thing until the last moment.
Contact us for more info, photos of the girls and where and when you want the show and we will get your Benidorm stag party a stripper that you have only ever dreamed about.
Kinky Karen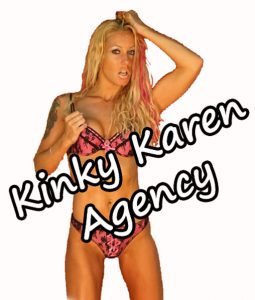 Kinky Karen as many of our repeat Benidorm stags will know had by far the best show of any stripper and even though she has now retired we are passing that on to our new girls who are equally as beautiful and vicious with the whip. I suppose we could call Naughty Nikki the new Kinki as she now does a very similar show that is loved by all. So even though Karen has hung up her G-string her legacy remains and we have even gone so far as to create the Kinky Karen Agency so the legend may continue
Kinky Karen has appeared on dozens of magazines including The Daily Sport and Men & Motors. When Karen moved to Spain where she learnt a fire show and started full stripping, modeling and making here 1st TV appearance…
Karen has appeared on some of the biggest magazine covers in Spain and has performed on Spanish TV shows and even went on a tour of Europe for a couple of years with her show!
Then Daily Sport wanted her & Men n' Motors filmed a documentary about her, that led to TV and magazine shoots in England..